Visa Cardholder Verification Service
Improve conversion and fight fraud using Visa to connect you with Issuer step-up methods.
available for use by
Issuer Banks
Merchants
Independent Developers
Regional Availability
View Details
N. America
Asia-Pacific
Europe
CEMEA
LAC
Pricing
Free to use in Sandbox. Contact Visa for pricing and commercial details to use in Production.
Verify cardholder identity with Issuer Methods
Visa Cardholder Verification Service (VCVS) gives clients the power to verify consumer identity by using Issuer step-up to deliver dynamic authentication data directly to their cardholders.
VCVS is based on the same Identity and Verification (ID&V) technology used successfully to enable products such as mobile wallets and other tokenization use cases.
The service works to improve conversion and fight fraud by integrating clients with an extensive network of Issuer banks to generate and send one-time passwords to cardholders.
Use VCVS to gather additional authentication data during provisioning of payment credentials, or at payment time. The service works with both tokenized and PAN-based transactions, and does not require clients to be a merchant.
Possible uses for the service are not limited to:
Issuer step-up authentication through an ACS or e-Commerce Facilitator.
Transactions requiring "strong authentication" triggered by certain thresholds, for example >2000 INR in India.
Granting user access to an application or service using dynamic data.
Contact center authentication.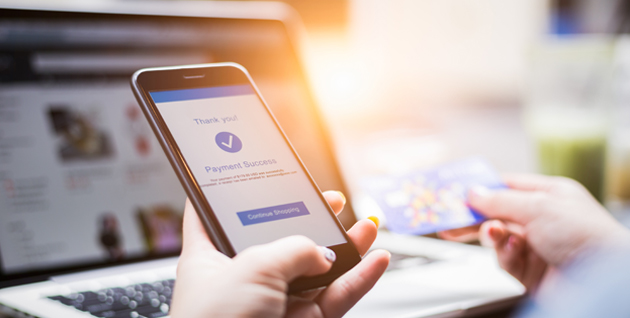 Key Features
Cardholder Friendly
VCVS provides e-commerce shoppers with a familiar experience for verifying their identity. One-time passwords are delivered to the cardholder's preferred destination based on contact information on-file with their bank.
Issuer Enabled
VCVS works with Issuers already integrated with Visa Token Service, which means you can access a large base of cardholders with one simple integration to Visa.
Reliability and Scalability
Visa generates and validates dynamic authentication data at scale. Visa's platform can handle peak volumes during holiday sales and provides high availability service with active-active routing.
Why Use It?
Digital commerce is growing. Visa estimates that between 2017 and 2020, eCommerce will have out-paced card present payment volume by 13%.
But challenges exist. eCommerce fraud is growing faster than payment volume, consumers abandon transactions at higher rates, and online transaction approvals are lower in comparison.
Visa (and the industry) has repsonded with standards-based approaches to reduce fraud and improve user experience. Products such as Visa Token service, Visa Secure Remote Commerce, and 3DS 2.0 are changing the way digital commerce works; all facilitated by sophisticated dynamic cardholder verification methods, now available through the Visa Cardholder Verification Service.
VCVS allows you to integrate with the platforms and Issuers that the future of digital payments are built on.
How Does It Work?
VCVS works by integrating with three APIs:
Authenticate
Submit ID&V
Validate OTP

The client configures rules that trigger a need for additional cardholder verification, then specifies VCVS as the verfication method.

The client then calls VCVS with the Authenticate API to request available step-up methods the Issuer supports.
VCVS then calls the Issuer to retrieve methods associated with the cardholder's PAN.
The Issuer returns available methods, which are then passed to the client and presented to the Cardholder.
The Cardholder selects their preferred method to receive dynamic authentication data. Visa then generates this data and provides it to the Issuer along with the Cardholder's choice of where they want the data sent. The Issuer then sends the dynamic authentication data to their Cardholder.
When the Cardholder receives the data, they interact with it in the appropriate manner and submit the data for validation by Visa.
Visa then validates the authentication data and provides the result to the client.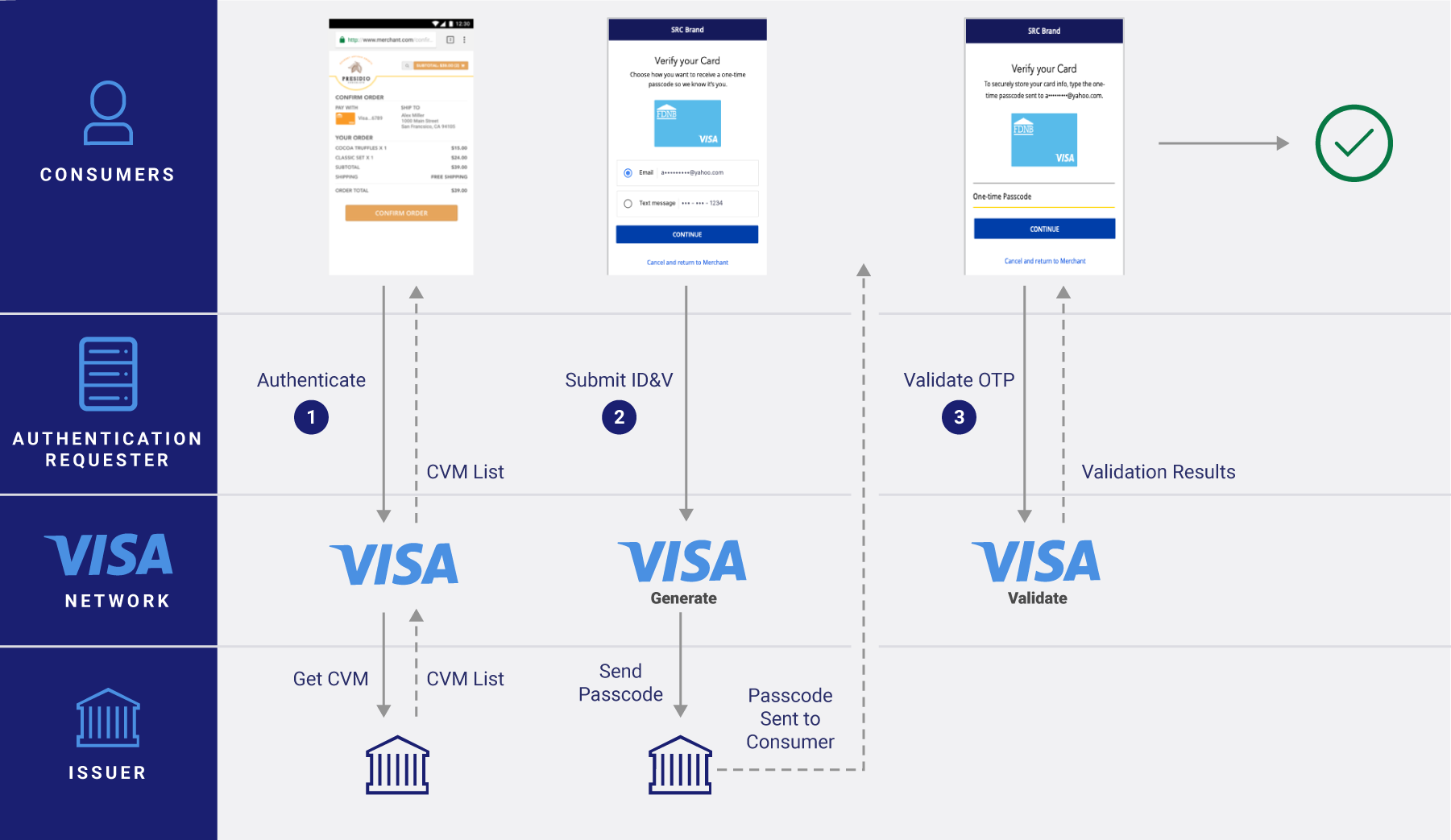 APIs Included
Authenticate
This API allows the caller to retrieve the available step-up options for a payment transaction.
Submit ID and V (Identification and verification)
This API lets service know the consumer choice of step up request. For example, email or SMS.
Validate OTP
This API allows clients to validate OTP entered by consumer as part of ID&V.
Ready to start with Visa Cardholder Verification Service?
Need Support?