Get predictions for wait times
Visa Queue Insights (VQI) offers two modes for functionalities via a simple API call -- Prediction mode and Feedback mode. In Prediction mode, the API delivers the predicted wait times for one merchant at a specific store location. In Feedback mode, the API sends the collected actual wait time back to the machine learning prediction model. The prediction delivery capability can be used independently, however, we would recommend it to be used along with the actual wait time collection functionality.

Key Features
Provide predicted wait time for merchants at a specific location.
Create customizable dashboard for holistic view of POS utilization and efficiency.
Provide offers, promotions, coupons based on real-time business indication.
Why Use It?
The wait time prediction capability adds value directly to consumers as it would help them to more accurately estimate time needed for their trips and plan their activities as they go about their day. It can also be used indirectly and integrated into existing functionalities of applications.
How Does it Work?
The following diagram outlines how the generated prediction is delivered to the user:

Step 1: Data inputs fed into prediction model.
Step 2: Prediction delivered to developers by the Prediction functionality of the API.
Step 3: Inetlligence delivered to end user.
Step 4: User provides feedback on accuracy of predictions.
The VQI API has two modes for functionalities. In Prediction mode, the API is used for pushing the predicted wait times to the application that is consuming the API. The Feedback mode is used for submitting crowd sourced data to Visa or the host application. These two functionalities can be used independent of each other.
The capability is grounded in implementing Queuing Theory with transactional data that Visa's network sees and other external data sources to generate predicted wait times for merchants at a specific location. The API would take merchant name and location information from the main application and will send that information to Visa Queue Insight's prediction model to generate a predicted wait time that can be sent back to the main application.
APIs Included
Visa Queue Insights API
Offers two modes: prediction delivery mode and feedback intake mode.
Related Content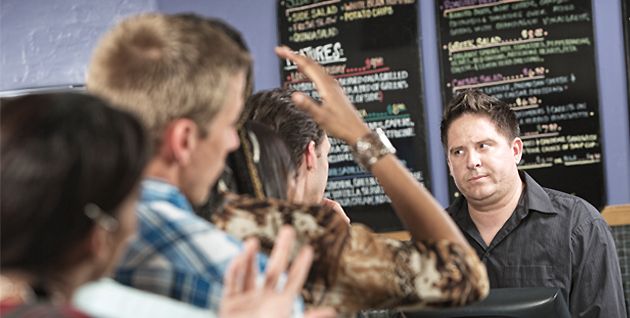 Check Predictions and Reduce Wait Use Case
Give customers a one-glance overview of wait times for participating nearby restaurants via mobile applications, digital displays, websites, and more.
Ready to start with Visa Queue Insights?
Need Support?