Visa Accelerated Connection Platform

CONNECT DIRECTLY
TO VISA
Visa Accelerated Connection Platform enables payment technology providers to connect directly to Visa, one of the world's largest transaction processing networks.
Who Can Use It?
To develop for Visa ACP, you need to be a payment technology provider in one of the following categories:
| Category | Description |
| --- | --- |
| STAND-ALONE TERMINAL | A stand-alone terminal typically sits on a merchant's countertop or is mounted to the wall. These terminals are not integrated with other systems in the merchant card acceptance environment. |
| INTEGRATED POS | An integrated POS system offers card acceptance as part of a single, fully-integrated cash register system. This system may include PC software, and PC and/or terminal hardware components. |
| MIDDLEWARE | Middleware is a third-party software solution used in conjunction with a separate POS system. Typically, middleware complements a cash register system that does not offer its own card acceptance and processing. |
| SWITCH | A switch is a hosted software solution, typically resident in a merchant's central data center, used to route transactions across multiple channels. |
| GATEWAY | A payment processing solution external to a merchant's card acceptance or data center environment that facilitates transaction routing to processors on a merchant's behalf. |
Benefits
Merchants worldwide need new and innovative solutions to grow their business. Visa ACP, in addition to providing authorization gateway services, connects payment technology providers to Visa. This helps:
Streamline delivery of new value-added payment solutions to merchants and consumers

Expand payment convenience across multiple channels

Simplify operations; the program is driven by a flexible API for easy integration and adaptability
How Does it Work?
How It Works
Participating payment technology providers code their payment solutions to connect directly to Visa through Visa ACP Interface Specifications, an XML application programming interface (API).
Merchants of participating acquirers in the United States may then process credit and debit authorizations for all Visa cards, as well as any non-Visa branded cards supported by Visa (e.g. American Express, Discover, JCB, MasterCard).
Visa distributes a capture file directly to merchants' acquirers to facilitate the acquirers' existing end-of-day clearing and settlement processes.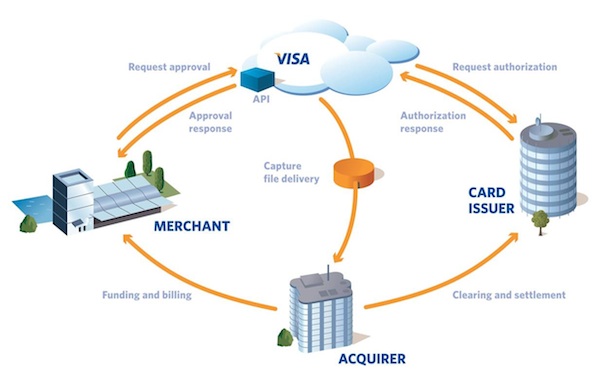 Note: Services provided via Visa ACP are currently available only to merchants in the United States working with both a participating acquirer and a validated payment solution from a participating Visa ACP payment technology provider. Conditions apply.